Artificial Intelligence (AI),.
...
wikipedia
sometimes called machine intelligence, is intelligence demonstrated bymachine/computers (either mechanical, bio-mechanical, chemical, fluidic, spacial)..... in contrast to natural intelligence displayed by humans and other animalsBUT BE MINDFUL... previously, computers and data systems only communicated INFORMATION, and THAT INFORMATION has now been made more REAL by humancoders and bio/data technicians, who are now linking it to all phases of humanmechanical systems.
Unfortunately,
that authority
IS NOW IN THE PROCESSOF BEING RELEGATED TO THE (AI
), .. ITSELF! ... for whatthe "Controllers" believe to be in the best interest of allworld societies !
Total Bullshit !!
.
The Holy Bible states in these end times, a "
BEAST
" would arise,and become ruler over the whole world.
ALL
will bow down to it,and be forced to comply with its mandates. The "BEAST" will have artificially mated a super intelligence system withan "entity" (most probably some type of "super-clone") It (he) will rule, along with the False-Prophet and the ANTI-CHRIST, for avery short time. During this period, catastrophic wars ensue which willkill-off almost ALL of mankind. As result of the chaos and RAMPANT BLASPHEMOUS SIN (i.e. worshipingof this "Beast") - HOLY ALMIGHTY LIVING GOD with HIS SON - LORD JESHUA (CHRIST)
WILL INTERVENE
on this Earth.
and in
Righteous Indignation
will wreakfinal havoc on all peoples'.However, a small remnant, will be spared as part of GOD's plan in repopulatingthe Earth for a 1,000 years. ... what happens next? ... READ THE BIBLE !
HOW WILL THIS "BEAST" ARISE? It's already happening..WAKE UP !.READ....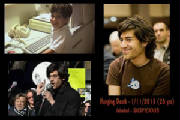 But First,... Let us start with who

MORE RECENTLY

was responsible for the development of this super informational system, which we refer to as (AI) today. Excluding BABBAGE, TESLA and TURING, who laid the groundwork for the computers aspect, please note it was actually a brilliant young man, named

AARON SWARTZ

.The report says he hung himself - NONSENSE ! -

He was murdered in Jan/2013 by the CIA for his outspoken discussions of the "ELITE's" secret plans for world domination through information control

. Aaron was a boy genius; at the age of 12, he built Info Network, an early ancestor of Wikipedia. At the age of 13 he built Really Simple Syndication (

RSS

), .the technology that is now near universally used to track virtually any publisher on the Internet. Wait,.. it gets even better...

Guess who eventually hacked into MIT's computer system, and downloaded millions of resource documents (educational, medical, legal, scientific) for the benefit of all those who wish to seek knowledge/reference for FREE; Instead of paying 10c a copy in a highly restrictive process, which garners the US Gov't over $10 BILLION DOLLARS a year in profit??

You got it !

THE ROBIN HOOD OF SCIENCE: THE MISSING CHAPTER - AARON SWARTZ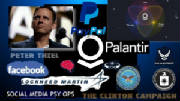 Still another "giant" in the development of the super computer informational system, is purposely low-profiled entrepreneur named
PETER THIEL
. This financier, who funded a host of companies with $BILLIONS of DOLLARS, is actually a front for the ELITE, and continually plays on both sides of the fence concerning the US and other world gov'ts.
Who do you think runs PALANTIR?
- the organization that keeps track of everything you do... anywhere - the military - educational institutions - all medical records - all financial records - the list grows exponentially by the day, completely unchecked/unknown to the public.
PALANTIR TECHNOLOGIES
has complete access to.....
"T.Y.L.E.R. (Time Yield Loop Entity Resolver)
, which is the largest of the universal artificial intelligence syatems now in place (among ALICE, JESS, BRIAN, HAL, and a few others),
.... and is able to shape reality through the use of social, financial, governmental functionaries, and information search programs (i.e. GOOGLE, FACEBOOK, PAYPAL, DATA BASES FOR ALL MILITARY DEPTS, GOV'T DEPTS, CRYPTOCURRENCIES AND COMMODITIES CONTROL.. and so many more).(
please see website for some extraordinary info regarding "Tyler(AI)"
).
Ever see the movie
TRANSCENDENCE
?
... Well,... We're almost there!.
(TAKEN DOWN FROM THE INTERNET - TOO MUCH TRUTH REVEALED)
I HAVE A COPY